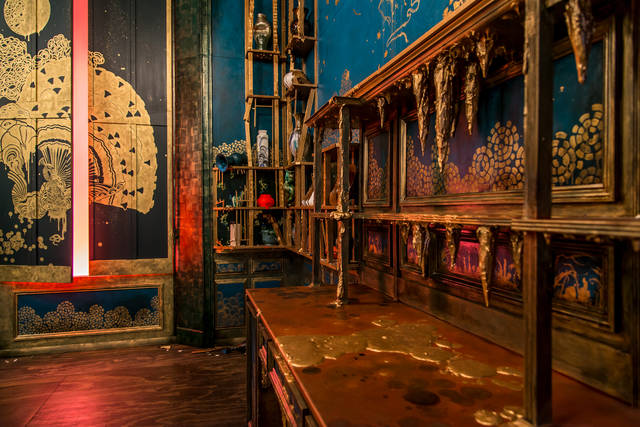 London's Victoria & Albert Museum is now exhibiting Filthy Lucre: Whistler's Peacock Room Reimagined. It is an immersive installation by contemporary American artist Darren Waterston, presenting a detailed reimagining of James Abbott McNeill Whistler's famed Peacock Room – the sumptuous 19th-century dining room which is now installed at the Smithsonian Institution, Washington, D.C. Waterston has faithfully recreated each of the room's individual elements with a twist, with the installation revealing a magnificent ruin crumbling under the weight of material decadence and the egos of those involved in its creation.
Darren Waterston's Filthy Lucre presents a dystopian response to the celebrated Peacock Room of 1876, designed by the architect Thomas Jeckyll and made infamous by the controversial painter James Abbott MacNeill Whistler. Whistler's lavish palette of vivid blues and iridescent green-golds, sumptuous treatments that covered every surface from window shutters to ceiling, and gilded peacock motifs, inspired the title of his decorative masterpiece: Harmony in Blue and Gold: The Peacock Room. The title of Waterston's work – Filthy Lucre – conversely reflects the underbelly of the Aesthetic Movement, the tension between art and commerce, patronage and artistic ego. This was demonstrated by the deteriorating relationship between Whistler and his patron Frederick Richard Leyland and culminated in Whistler's satiric portrait of Leyland known as The Golden Scab: Eruption in Frilthy Lucre, which played on Leyland's predilection not only for frilly shirts but also his role as a captain of industry, and inspired Waterson's rendition.
Replicating almost every detail of Whistler's masterpiece, Waterston transforms the room into an uneasy experience of destruction and twisted excess, drawing parallels between the economic inequality of the Victorian era and today. Created through extensive collaboration, Filthy Lucre demonstrates master craftsmanship to reimagine the luxurious wood paneling, ornate lighting pendants and stunning ceramics collection, as well as decorative wall art and a captivating central portrait that draws viewers into the room. A soundscape by New York-based rockers BETTY also enhances the installation experience, filling the space with muffled gossiping voices and a mournful cello.
Victoria & Albert Museum's exhibition runs through May 3.