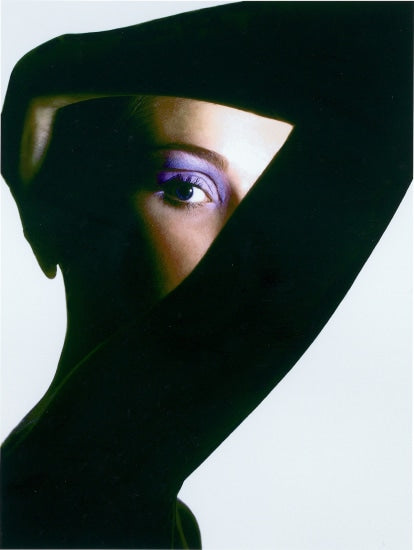 Phillips Auction House in New York City recently showcased an exhibition titled Silhouette: Fashion Photographs by Alberto Rizzo. In what marked the first solo show dedicated to him in over a decade, the award-winning artist's groundbreaking work and enduring legacy in the field of fashion photography was on display with thirty-six carefully selected images. Throughout his illustrious career, Alberto Rizzo continued to redefine the standards for innovative fashion photography, always encouraging the public to challenge their expectations and embrace the avant-garde.
Born in Italy in 1931, Rizzo studied painting, design, and graphic arts at the famed Accademia delle Belle Arti di Brera, Milan. By 1961, Rizzo began his career as a photographer, moving to New York City in 1965. Once in New York, he established himself as an avant garde fashion photographer and began his creative relationship with prominent art director, Bea Feitler at Harper's Bazaar. This collaboration with Feitler resulted in Rizzo working extensively with the world's most important fashion publications. His editorial work was published in: Harper's Bazaar, Italian Harper's Bazaar, Vogue, Italian Vogue, L'Uomo Vogue, French Vogue, Japanese Vogue, Vanity Fair, Mademoiselle, Glamour, GQ, Linea Italia, Playboy, and many more. Commercial clients included: Bloomingdale's, Bergdorf Goodman, Saks Fifth Avenue, Armani, Chanel, Revlon, Clinique, Max Factor, Seiko, and Tiffany.
Rizzo's pioneering photography received many distinguished awards throughout the late 1960s and early 1970s. In the late 1980s, Rizzo began experimenting with photoprinting on different surfaces and in 1994 he filed a patent for photoprinting on Metal and Similar Substrates with the United States Patent Office.
Alberto Rizzo moved to Florida near the end of his life and died in Miami, FL in 2004. In recent years, Rizzo's photographs have been accepted into the permanent collections of The Metropolitan Museum of Art, Victoria and Albert Museum, and The J. Paul Getty Museum.